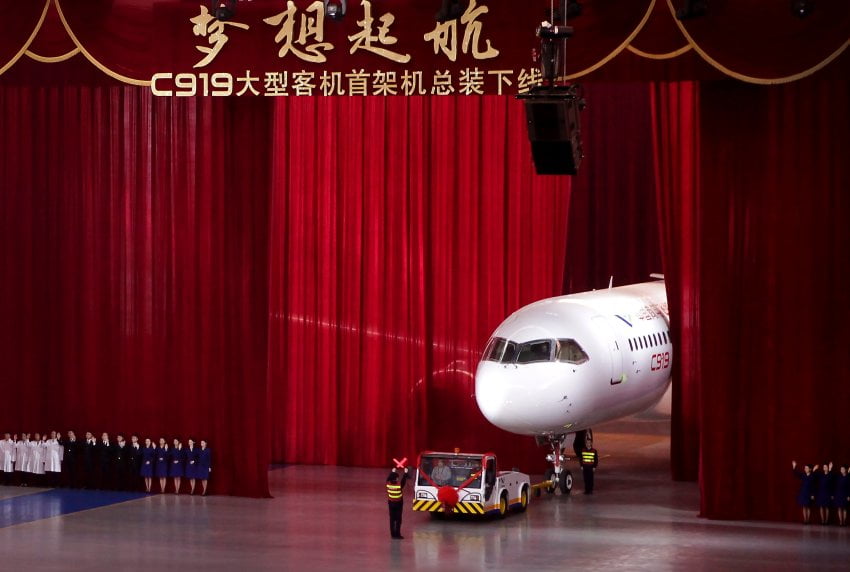 China's first homemade large passenger aircraft rolls off the assembly line in Shanghai on Monday, 02 Novermber, 2015. With the help of Chinese government initiative, The Commercial Aircraft Corporation of China (COMAC) showed off its twin-engine C919 large passenger jet. The ceremony was attended by some 4,000 government officials and other guests at a hangar near the Pudong International Airport.
The COMAC C919, where C in C919 stands for CHINA, showed of a shiny white fuselage with a blue wavy stripe and a green tail, replicating COMACS's logo (V shaped Blue and Green lines). The C919 is powered by a twin-engine, a narrow-body design with seating up to 174 people and flying range from 4,075 kilometere for basic verions to 5,555 kilometers (3145 miles) for advanced version. The economic life is designed to be 90,000 flying hours/30 calendar years. These dimensions are almost similar to the highly popular Airbus 320 and Boeing 737 series of passenger jets.
Although, the state claims that COMAC C919 is completely homegrown, CNN's report says something else:
"CNN was able to verify the key components of the C919 are made overseas — Leap engines produced by a partnership between France's Safran and the US firm GE.), power system and landing gears (both by U.S.-based Honeywell)."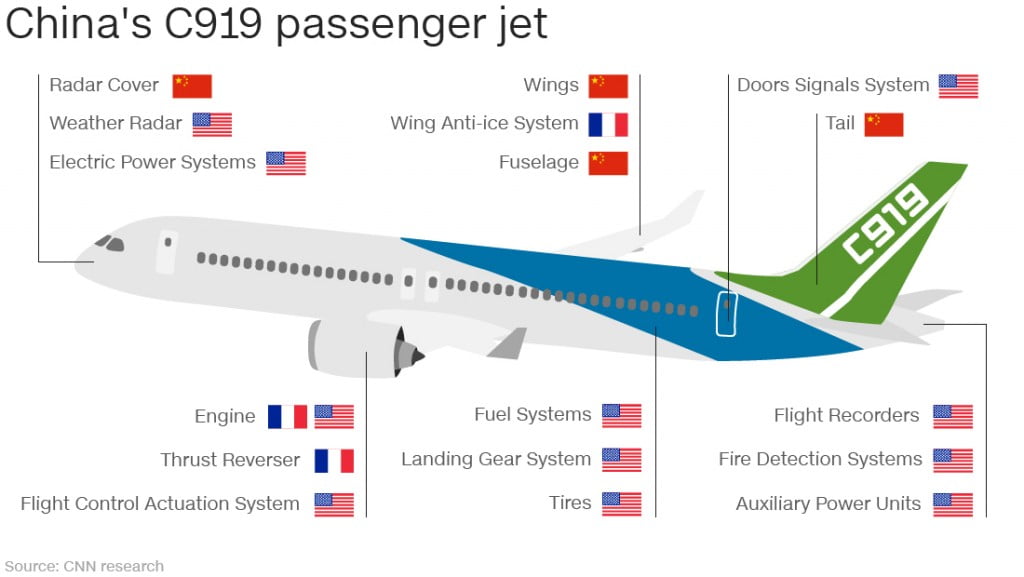 After USA, China is world's second largest air travel market and China's hunger for new passenger jets continues due to its explosive growth. According to a recent Boeing forecast, China will need more than 5,000 new planes over the next two decades to meet its explosive growth.
COMAC C919 is yet to get the certifications, the test flight will not take place until 2016 and only by 2018, COMAC C919 would be ready to cruise in the skies with passengers.
COMAC C919 Gallery
Image Sources: CNN, FlightGlobal