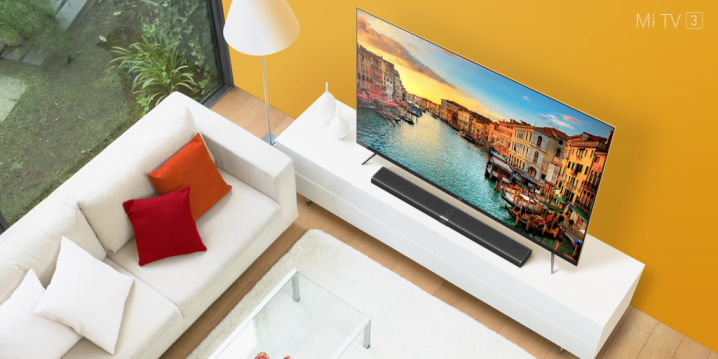 Its here, a TV that every common man can dream of buying. 60 inch Ultra HD fully metal bodied TV at 4999Yuan (Rs 50,000*) only, yes you heard it right. This is Xiaomi's third iteration of its famous TV range and successor of Mi TV 2
Xiaomi, a very fast growing and most popular brand from CHINA and probably the only company who delivers quality products with beautiful interface without making your pockets light unlike *cough* Apple. Xiaomi has always been drawing inspiration from Apple (who doesn't?), whether it's in terms of Hardware or Software. I personally feel Xiaomi is the only company who has been providing a quality and most the beautiful Custom Rom based on Android out there with a powerful hardware.
Xiaomi isn't concentrated only on smartphones; they have launched various range of high quality products giving a great bang for your buck. From water purifiers to fitness bands, from Tv's to Enterprise level Routers, from Water Purifiers to Air purifiers, from Weighing scales to Wireless adapters, from Bedside Lamps to Earphones. You name it, Xiaomi has it. The list keeps getting bigger and bigger every month. Although, most of its products range don't make out of China officially. Although one can go to third party sites like Aliexpress and order one to any part of the world. The only catch, you must be smart enough to make it work with Chinese language.
Xiaomi MI TV3 is one of the slimmest and gorgeous looking TV's out there. This TV is a stunning beauty inside out, with all metal body and maintaining a slim figure. The Xiaomi MI TV3 is 11.6mm thin at its thinnest and 36.7mm thick at it thickest point. It also weighs roughly around 21Kg too with its stand attached.
With all these features and jaw dropping price, what's so special in this TV? Well the Xiaomi team have split the TV into two parts, where user can upgrade the motherboard and retain the display or vice versa. This makes the TV futureproof and unique on its own.
It's a really promising product from Xiaomi with such upgrade options, they did looked on all the tiny details of entire TV experience. No one loves wires hanging around here and there looking like a thick spider's web. Xiaomi's new design makes it easier for you to hide all the cable with just one: Mi Cable.
Specification
Original screen – LG screen
Resolution – 3840 * 2160 True 4K
3D – not supported
Backlight – Mi / Radiant jointly developed Bottom side LED
Intelligent backlight – 8 partitions smart regulation
Dynamic backlight – support
High color saturation – > 85%
Motion compensation – 6M60 professional image processing chip + MEMC motion pictures provide compensation
Viewing angle – 178 °
Static contrast ratio – 1200: 1
Dynamic response – 8 ms
Refresh rate – 60Hz
Process – Double 45 ° diamond cutting technology Borders
Metal America back
Mi TV Gallery
Most of the TV's have logic board built inside, but here in Xiaomi MI TV3, they have combined the speaker, the logic board and MI TV box into one elegant Mi TV bar. This connects to the TV with a single cable, hence making the TV slimmer, more clean without wires and easy to repair. The sound box consists of all your connectivity options like HDMI, USB ports, VGA, Ethernet, AV, RF modulator and a port for the new Sub Woofer (just in case if need more boom boom). Also has a setup of Twin Dome tweeter with for 2.5″ mid-range subwoofer producing exceptional sound. The wow factor of Mi TV bar is that you can convert your existing TV into a smart TV. The Xiaomi Mi TV Box costs 999Yuan (Rs 10,300*)
Specifications
The main board is based on Android 5.1 Lollipop with MIUI on top
MStar 6A928 flagship 4K TV processor
Powered by Quad-Core 1.4GHz
Cortex-A17 chipset
2 GB DDR3 RAM
Mali-T760'4+4 core GPU
4K 60fps,H265 10bit hardware decoding
Metal Body
The built-in speakers with Dolby Audio technology offer virtual surround, deeper bass, dialogue enhancer and auto volume balance
Mi TV BOX GALLERY
Last but not the least, Xiaomi also announced an add on accessory, which is a 6.5 inch Mi Sub Woofer in aluminum casing with wired and wireless connectivity options and a Bluetooth voice remote control with 6-axis built in sensor by BOSE with optimized voice features and algorithms.
Mi Sub Woofer and Mi Remote Voice Control Gallery