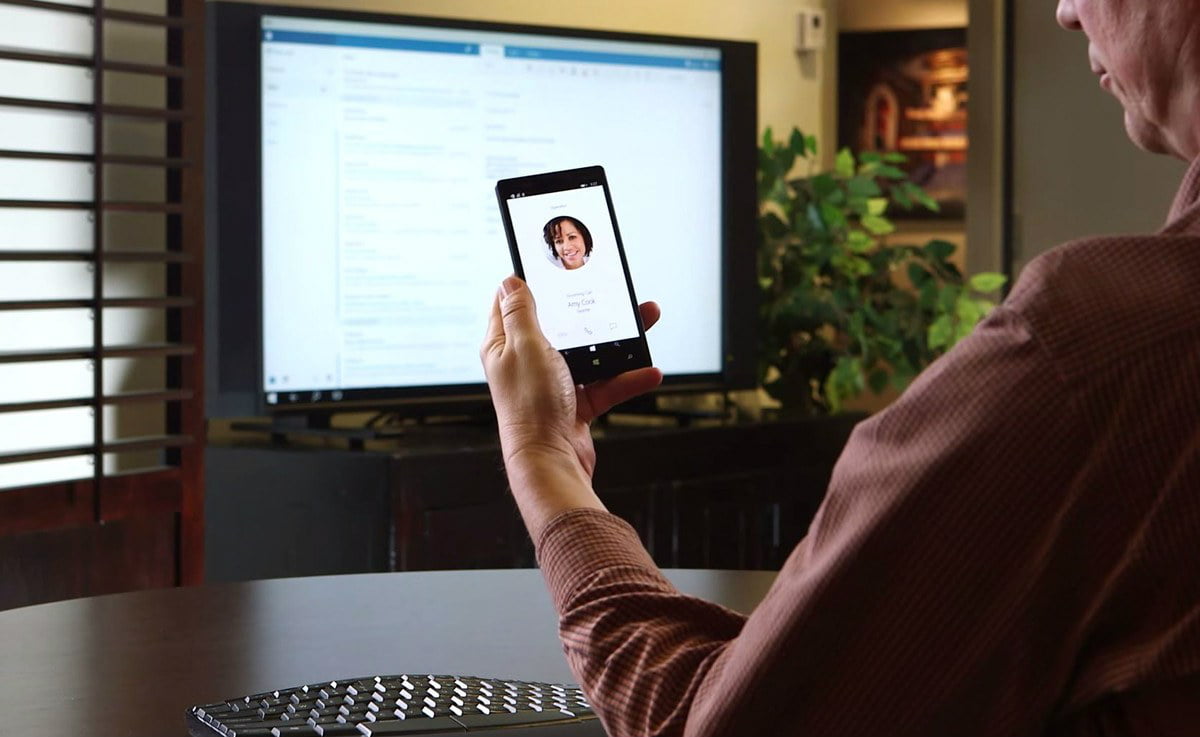 Microsoft has done a lot of work to enhance and polish Windows 10 experience for Desktop as well as Mobile. Way back in April, Microsoft announced Windows Continuum, which turns all your apps from Windows 10 phone into a PC. This allows making use of a mouse and a keyboard to get a Desktop PC like experience while working on apps from windows 10 phone. The apps from your Windows 10 smartphone scale up to look exactly similar as if they were running on Windows 10 PC.
As Microsoft says, Windows Continuum is your phone powering the second screen, while using your phone, with the ability to connect a keyboard and a mouse which make your phone feel more like a PC. The keyboard and mouse are ready to go, and with a 60 FPS refresh rate, catching up on email is flicker-free and super-smooth. With 1080p HD output and a USB-C port that charges your phone while you work, it's a quick and easy way to get the productivity advantages of using a bigger screen
Once your phone is connected with secondary screen (aka your monitor or TV), the desktop looks exactly same like a Windows 10 PC, with all the familiar taskbar and start menu. When in continuum, the start menu is simply the start screen of your phone, making it easier to browse through apps as you exactly know what is where.
A nice zoom animation greets you when launching an app, the loader is exactly same as you are familiar in your Windows 10 phone. Now come's the real surprise while launching Office Apps, the interface looks exactly same as you are used to while using Office Apps on Windows 10 PC. Henceforth, you can use all the keyboard shortcuts and navigation just like you were using Office on Windows 10 PC.
Windows Continuum supports all universal apps, as they are developed to scale up based on different screen sizes. That means apps like the Store, Alarms, News, Weather, Settings, etc. All scale up like their desktop counterparts when using Continuum for Phones. You can even change from Desktop to Tablet mode or vice versa anytime, Windows 10 adjusts your experience for your activity, device and display, so you can do your thing in any mode anytime you want.
The real icing on the cake is, while accessing apps in Windows Continuum mode, you can use your phone normally, the universal apps won't hinder your mobile experience, you can answer calls, access other apps like messaging and simultaneously work on universal apps (like Microsoft Office) without interrupting what's on the big screen. Amazing isn't it?
Now the bad part only the new Windows 10 Mobile devices would be able to take advantage of Continuum, wirelessly via Miracast or via a dedicated Continuum Dock that allows wired connection through USB-C to a HDMI or DisplayPort.
Personally, this is one of the best features I like in Windows 10. Looking forward to get my hands on Lumia 950 or Lumia 950 XL to experience the Windows Continuum.