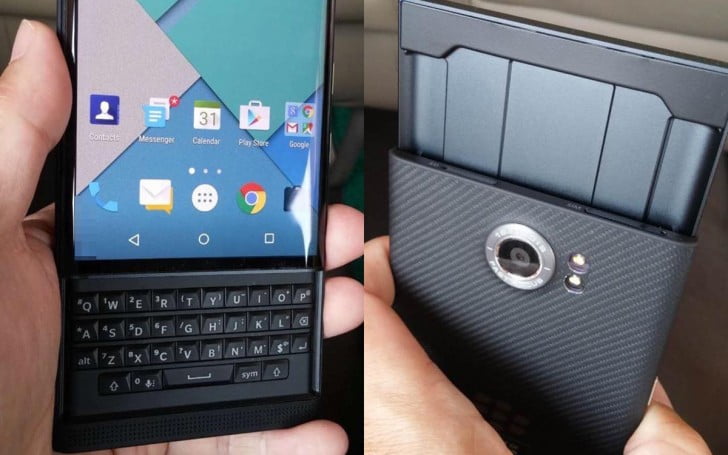 As Android and iOS are dominating the mobile operating system market, the other operating systems which had huge market share seems to be completely fading away, namely Symbian and the reason, we all know it. Blackberry is still optimizing its BlackBerry 10 Operating System but its not getting the traction as expected. Reason? Lack of apps. The similar attempt has been made by Windows Operating System, though it has pretty good number of apps in its Store but they are not even close to quality and quantity when compared to apps available on Android's Play Store and iOS App Store.
The struggle of the Canadian manufacturer continues, as the CEO of BlackBerry John S. Chen took the opportunity to showcase their first Android based slider smartphone called PRIV on account of number leaks and speculations circulating around the internet.
During an interview with CNBC, Chen said "We only build secure phones, and BlackBerry is the most secure phone. So, if I can find a way to secure the Android phone, I will also build that". It seems BlackBerry might have found a way to make Android secure and hence they are opting on Android's operating system to win customer's again.
Today, I am confirming our plans to launch Priv, an Android device named after BlackBerry's heritage and core mission of protecting our customers' privacy. Priv combines the best of BlackBerry security and productivity with the expansive mobile application ecosystem available on the Android platform.
After all these promises, the current BlackBerry 10 users might feel insecure, but the following statement ensures the users will be provided with choices of opting two operating systems along with continued support to BlackBerry 10 operating system.
Today, BlackBerry is announcing two new additions to its handheld device roadmap. First, the company will launch a flagship slider device, Priv, which will run on the Android operating system, bringing together the best of BlackBerry security and productivity with the expansive mobile application ecosystem available on the Android platform. In combination with BlackBerry's efforts to support Android for Work on the BES12 platform, the new device will offer best in class security for enterprise customers. BlackBerry expects the device to be available late in the calendar year in major markets in-store and online, and will release further details in the coming weeks.

While the new device will provide a choice in OS to new and existing customers, the company remains committed to the BlackBerry 10 operating system, which enables industry-leading security and productivity benefits. Second, the company will continue to develop and enhance the BlackBerry 10 operating system and is confirming plans to release platform updates focused on security and privacy enhancements, with version 10.3.3 scheduled to be available in March 2016.
Here, is the video of BlackBerry's CEO Johny Chen showing off BlackBerry PRIV to BNN's Amber Kanwar
Well, if you observed in the video, Johny Chen, kept saying the phone runs on "Google" instead of "Android". The OS had couple of hiccups accessing Google Chrome app, probably as it was the demo unit as he mentioned. Perhaps, he should have showcased with a functional unit which is already setup. Anyhow, BlackBerry's patented QWERTY keyboard is included in this device which slides from the back of the display, the keyboard also acts a capacitive trackpad to make use of gestures while browsing.
Checkout the gallery of BackBerry PRIV, do let us know your opinions in the comments below